[click here for all available accommodation]
Lithgow Region towns and villages, accommodation set in some of the most beautiful and scenic locations.
Please select a town below to show accommodation availability for that area.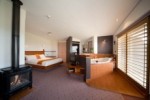 Address: 271 Sandalls Drive, Rydal, NSW 2790, Australia. Lake Lyell. PH: 1300851829, Fax: 02 6355 6311 Email Us.
Eagle View Escape is a stunning 100 acre property just 30 minutes west of the Blue Mountains. Select your location from our three styles of luxury, self-contained accommodation, tailor made for your romantic escapes. We offer a warm welcome, comfortable secluded accommodation and excellent freshly prepared food using local produce wherever possible. Catering exclusively for couples, we provide all the seclusion and luxury you need for a romantic getaway with your someone special. Internet: http://www.eagleview.com.au. Check Availability..
Address: 1 Canobla Ave, Glen Davis. NSW. 2846. Phone: 02 63 797372, Fax: 02 63797372, Email .
Historic Art Deco Boutique Hotel surrounded by magnificent escarpments of the Capertee Valley. Providing accomodation & full board to groups for functions, private events, weddings & conferences. Spectacular setting & venue for artists, photographers, birdwatchers or those wanting an awe inspiring location for a group retreat. The Hotel provides a unique wedding setting & is perfect for conferences looking for a different edge. Internet: http://www.glendavishotel.com.au .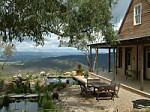 Address: Lot 101, 271 Martins Rd, Rydal. NSW. 2790. Phone: 0418105543, Fax: 02 47824567, Mobile: 0418105543, Email Us.
A romantic country retreat set on 200 acres of untouched bushland and grass filled paddocks. Magnificent views of the Blue mountains and picturesque countryside from the cabin and not a neighbour in sight. A private and peaceful escape for couples, or a group of 8. Log fire, luxurious clawfoot bathtub and shower, linen supplied, TV / CD / Video etc.., breakfast provisions, pet friendly. MORE INFO...
Address: 1880 Bells Line of Road, Kurrajong Heights, NSW 2758, Australia. Phone: (02) 4567 7398, Fax: (02) 4567 7862, Mobile: 0415 404 643, Email Us.
Madison's Mountain Retreat is a four-star peaceful bed and breakfast farmstay in Kurrajong Heights, on acres bordering the Wollemi and Blue Mountains National Parks. Secluded with stunning scenery yet easy to reach, we have 8 self-contained cedar cottages and 2 refurbished train carriages. Each can accommodate up to 5 people. Every spacious cottage has a cosy log fire, kitchenette, TV and DVD player.MORE INFO...
Blackheath Creek Rd, Little Hartley. Phone: (02) 4787 1967. Email Us Check Availability..
Secret Valley Escape is a magical, 200 acre, luxury retreat in the heart of The Blue Mountains World Heritage Area. At Secret Valley Escape we offer a range of luxury accommodation styles to suit your taste. Perhaps the Grandeur of 'Illowra House', or the seclusion and class offered by our five themed Cottages. The Choice is yours, along with a menu of extra services that can be provided during your stay with us.Internet: www.secretvalleyescape.com. Check Availability..
See also Internet: http://www.jenolancaves.net/
Hatter's Hideout - BELL - Check Availability

Hatter's Hideout Rent a cave, 4 1/2 star luxury lodge with extensive views over the Wollemi Wilderness and 8 acres of diverse nature reserve with a variety of ecosystems from ridge top to rainforest. Custom designed as an environmental retreat for small groups wanting privacy while exploring and learning of the unique natural wonders that make the Blue Mountains a World Heritage Area. Activities at Hatter's Hideout are tailored to individual client desires. Choose from a concert of indigenous music and stories, on-site eco tours, rocksports or simply relax. 'LIKE RENTING A PRIVATE NATIONAL PARK'. Email Us. Internet: http://www.hattershideout.com.au/

Dargan Springs Retreat - Dargan - Check Availability
Address: 9 Donald Road, Clarence, NSW, 2790. Ph: 02 6355 2939, Fax: 02 6355 2950. Email Us
Dargan Springs Retreat is a small exclusive property providing very personal, high quality hospitality. It offers natural heath retreats in a truly relaxing environment. It is located at the top of the Blue Mountains, 2 hours from Sydney, and has luxury accommodation in the unique and stunning 'tree-lodge'. Low-key and simple natural therapies are on offer including massage, aromatherapy and facials, as well as outdoor activities, guided bushwalks, meditation, tai chi, fitness consultations and use of outdoor hot spring-water spa. The surrounding bush on the property is full of native birds, wildlife, flowers and mature trees. The natural spring and rock labyrinth are unusual features in the bush garden. With valley and escarpment views from the decks, peace and tranquillity are assured.
Internet: www.dargansprings.com.
Please check with Operators before booking, rates are AU$ and subject to change without notice
For Further Information Contact Lithgow Tourism
Click here you would like to advertise on lithgow-tourism.com