[click here for all available accommodation]
Lithgow Region towns and villages, accommodation set in some of the most beautiful and scenic locations.
Please select a town below to show accommodation availability for that area.

Address: 200 Jenolan Caves Road, Hartley. NSW. 2790. Phone: 02 6355 2186. Email Us
Glenroy is a magnificent historical rural property overlooking the Coxs River in Hartley. Enjoy warm and friendly hospitality in country style cottages with luxurious interiors in a bush setting overlooking tranquil river pools. Glenroy offers five spacious country cottages, individually styled, all self-contained with plenty of room for privacy. Exciting and very stylish comfortable accommodation, with amazing views and ambience. Camping, fishing, toilets, Kiosk, bush-walking, Pets allowed. Entry fee applies per vehicle or tent/caravan per night. BYO food & drinking water & fuel stove. Internet: www.glenroycottages.com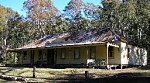 Address: 3406 Wolgan Road, Newnes. PO Box 63, Wallerawang NSW 2845. Phone: 63 551 247, Fax: same, Mobile: 0417 665 296. Email Us. Check Availability..
Surrounded by the wilderness of Wollemi National Park, rain-forested canyons, spectacular sandstone cliffs and historic ruins of the former mining town, three hand crafted cabins (sleep 6,4 and 4) in the most beautiful setting, solar power, disabled facilities, ecologically built, pets welcome. A very special place !
Internet: www.lisp.com.au/~newnes/ . Check Availability..
Venice Caravan Park

Browns Gap Road, (Just off Great Western HWY.), Hartley. PH: 02 6355 2106.
Centre of Historic Hartley. 43 Van Sites, Modern level Sites. All Amenities. Power is metered separately. Tent Sites available.


Lockyer's Head Track Camp Ground
Hartley Vale. Natural camping ground, toilets


Glen Davis Camping Area

Glen Davis. Camping, Picnic Area, Amenities


Via Rydal Road, South Bowenfels, Lithgow. Camping, Swimming, Fishing, water-skiing, Picnic Area, Amenities. BYO food & drinking water, fuel stove. For More information: Email Us. Internet: www.lithgow-tourism.com/lakes.htm


Jenolan Caves Road, Hartley 2790. PH: (02) 6355 2186. Email Us.
Camping, fishing, toilets, Kiosk, bush-walking, Pets allowed. Entry fee applies per vehicle or tent/caravan per night. BYO food & drinking water & fuel stove.
Internet: www.glenroycottages.com


Wolgan Valley Road, Wolgan Valley. Wollemi National Park, Camping, bush-walking, Historic Ruins, Pit Toilet. BYO food & drinking water & fuel stove. Email Us. Internet: www.lisp.com.au/~newnesk


Bungleboori Camp Ground
To reach the Bungleboori Camp Ground from Lithgow follow Inch Street, turning left into Atkinson Street continuing to the Newnes Plateau, past interesting rock formations. Natural Camp ground, Toilets
(Take care with fire - During fire bans no campfires or fuel stoves.)

Please check with Operators before booking, rates are AU$ and subject to change without notice
For Further Information Contact Lithgow Tourism
Click here you would like to advertise on lithgow-tourism.com